About our company
More than


2 500
items in the assortment
Present in over


100
countries around the world
Founded in 2010, WILMAX England is a British brand of high-quality tableware. Currently, the company's assortment includes more than 2500 items that thanks to the efforts and well-coordinated work of a large international team, the brand is rapidly growing and developing. The company's brand presence extends to over 100 countries around the world, among the regions: Europe, Asia, Middle East, Africa, Australia, America and, of course, in the CIS countries. When developing collections, the designers of the company always try to take into consideration the cultural and regional specifics of each country and gastronomic tastes.
WILMAX tableware will enrich your meals, help set the mood by complementing the visual aspects of the food and also decorating the dinner and will serve you for many years. The variety of shapes, styles and materials will satisfy any taste, even the most demanding.
In the assortment of the brand, you will find classic round plates or extravagant triangular and square ones, bamboo and porcelain dishes for serving snacks, table accessories, many options for tea and coffee, and drinking glasses, baking dishes and high-quality cutlery at fairly affordable prices. It will take time to explore the entire range and make the right choice, but you will not regret the result!
Popular collections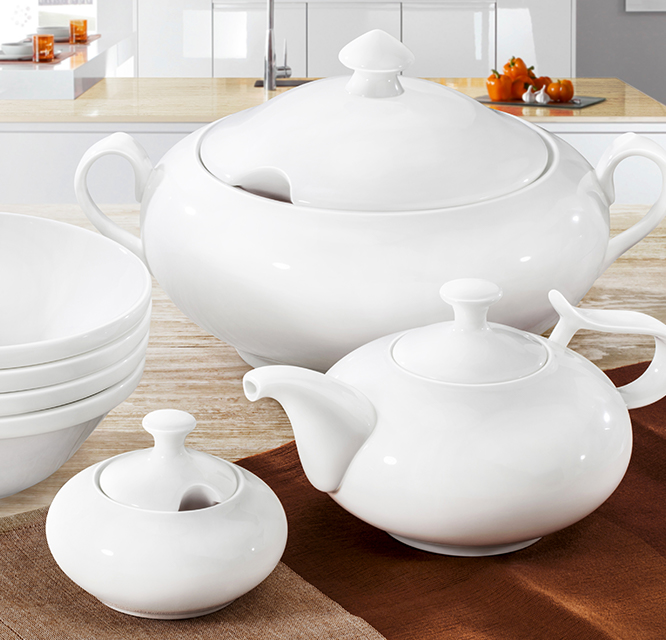 Fine Porcelain
Classic white and shiny porcelain for home and professional use. The wide assortment of the Fine Porcelain collection by WILMAX includes all the necessary items for serving. Plates of various shapes and sizes, bowls, baking dishes, tea and coffee related items and a large number of table accessories.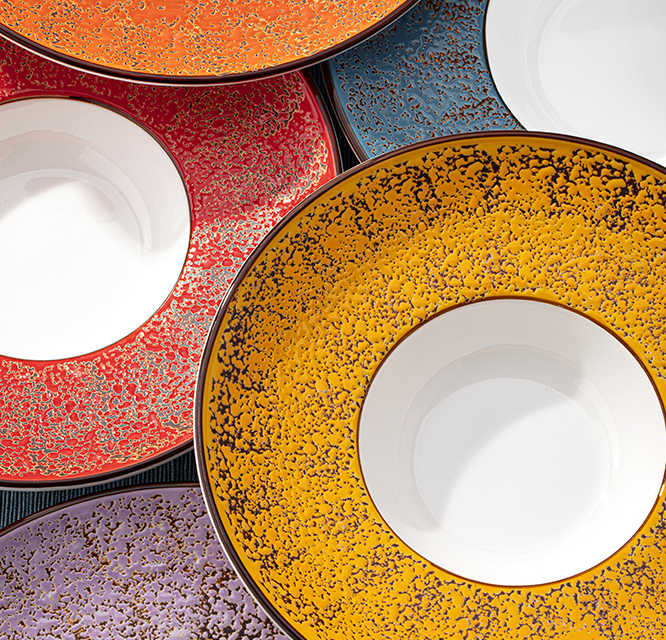 Color Boom
The renowned quality of Fine Porcelain is presented in a completely new and unexpected way: seven vibrant colours and with a variety of textures. The variety of this collection will impress anyone with plates, dishes, bowls of various sizes, mugs, coffee and tea pairs. Coloured items can be easily combined with each other, and also fit perfectly with the classic WILMAX white porcelain.
SlateStone
Black dishes by WILMAX outwardly resemble fashionable slate products, but in fact the main material is porcelain with a natural stone texture, covered with a matte black glaze, which adds durability to pieces. The dishes are scratch-resistant, and the colour does not fade over time. The new collection was created for the original presentation of any dishes and is ideal for decorating various interiors in styles: country, rustic, minimalism and many others.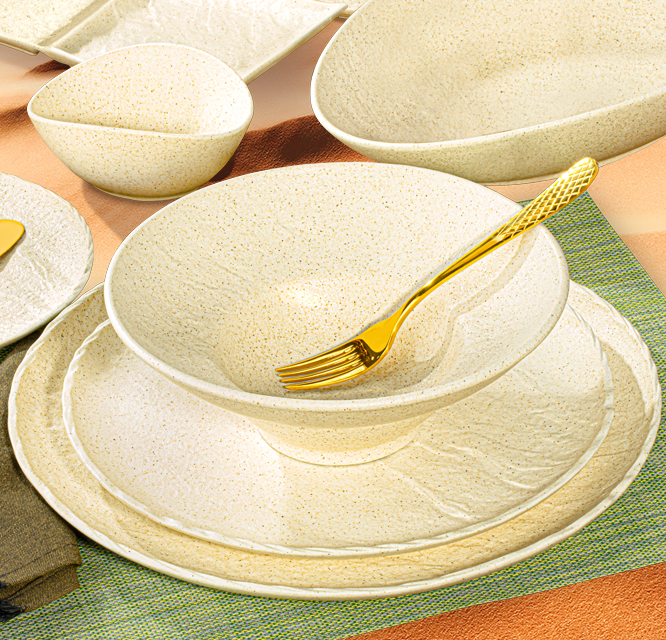 SandStone
The well-known classic Fine Porcelain collection has been transformed into stylish textured sand-coloured tableware. The options are impressive, since the assortment includes rectangular, square and round plates for serving first and second courses, salad bowls, serving dishes and much more. All products in the series have a recognizable rustic design, suggesting the grittiness of sand.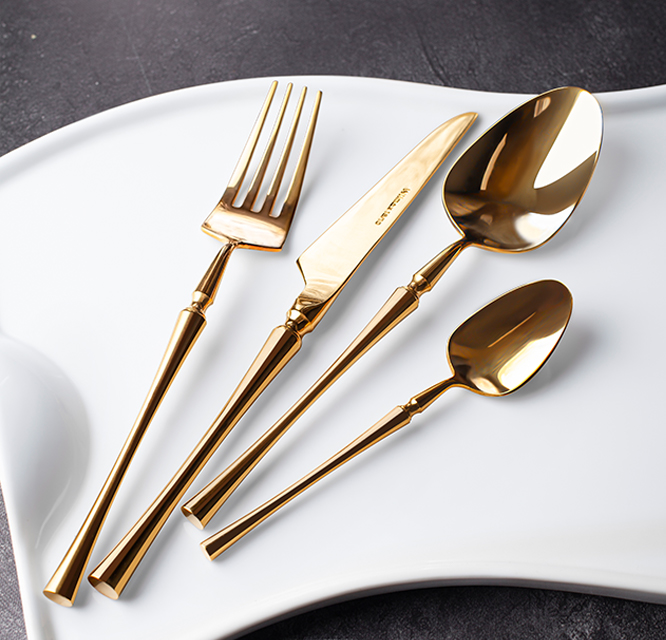 Stainless Steel Cutlery
Stylish and ergonomic cutlery made of high quality 18/10 stainless steel, perfect edge finishing and high polish quality - all of which make for a comfortable hold in the hands. The wide range of the WILMAX collection is available in three colours: classic steel, gold and black.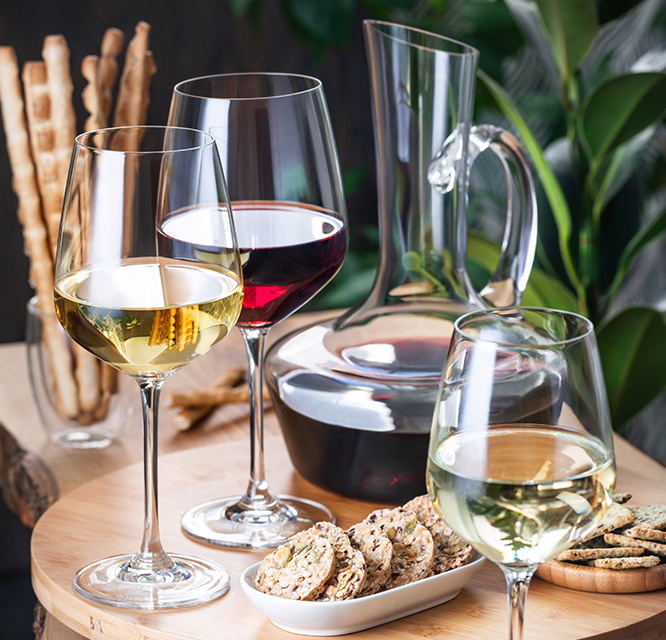 Crystalline Glassware
Graceful glasses, decanters, cups and jugs are made of high-quality crystal glass, lead free. The WILMAX assortment includes both high volume glasses for better disclosure of the wine bouquet and narrow forms for champagne, as well as glasses for martinis and other cocktails, and juices. In addition to glasses, the collection includes wine decanters and jugs for soft drinks and water.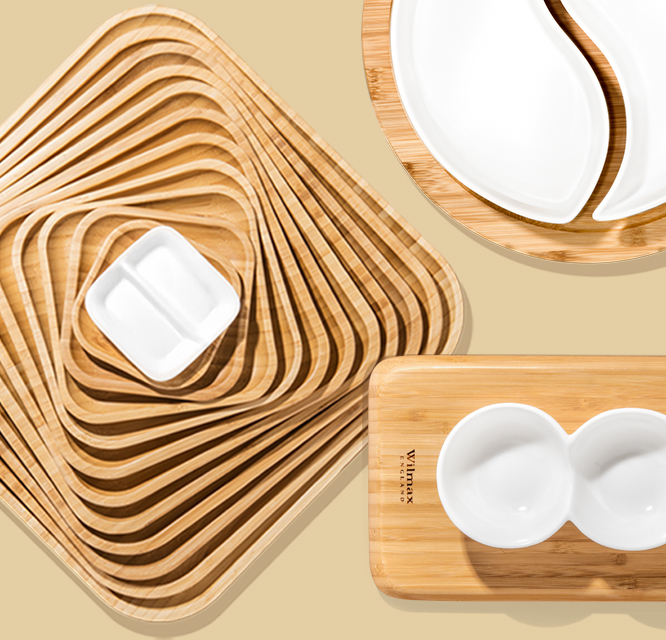 Natural Bamboo
Trendy eco-friendly, the WILMAX bamboo collection is made of sustainable harvested bamboo. Bamboo is known for its durability, lightweight and versatile. WILMAX bamboo products have modern design and timeless look, which gives unlimited possibilities. The Natural Bamboo collection includes a wide range of serving boards, plates, dishes, turntables, salad bowls, mug racks and more.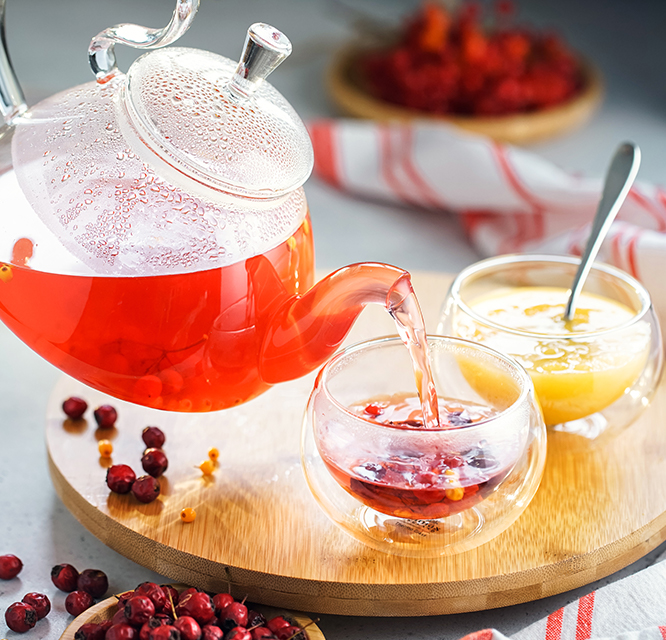 Thermo Glass
WILMAX presents a wide range of double-wall glasses, mugs, bowls, as well as jugs, teapots and coffee decanters, made of heat-resistant borosilicate glass, characterized by an effective laconic design. The double wall insulated glass design creates a thermal effect, keeping your drink hot or cold for a long period while the outer glass remains safe to touch. Products made of thermo glass withstand extreme temperatures, are hygienic, do not absorb odours, and are highly scratch resistant.
Company details
WILMAX EUROPE SPÓŁKA Z OGRANICZONĄ ODPOWIEDZIALNOŚCIĄ
Numer KRS
0000905740
NIP
9512521066
REGON
38916860800000
PREZES ZARZĄDU Aliaksandr Makratsou



Adres Postępu 19 lok.103 Warszawa, Polska
Konto Firmowe Godne Polecenia
16109010430000000148163407